Walking through Nijmegen
While walking, discover the old city of Nijmegen, which exudes a young, southern and friendly atmosphere!
Discover the most beautiful spots of Nijmegen by walking this city walk. The old city exudes a young, southern and friendly atmosphere. Download the GPS route and check out the highlights below. Tie your laces and get going, have fun walking!
Sights on this route
Starting point: Grote Markt 17
6511 KA Nijmegen
Citystore Nijmegen
Citystore Nijmegen
Stevenskerk
The late Gothic St Stephens's Church is in the heart of the charming historical centre of Nijmegen. As soon as you enter the church you will be struck by the striking interplay of lines in the architecture.Read more
Stevenskerk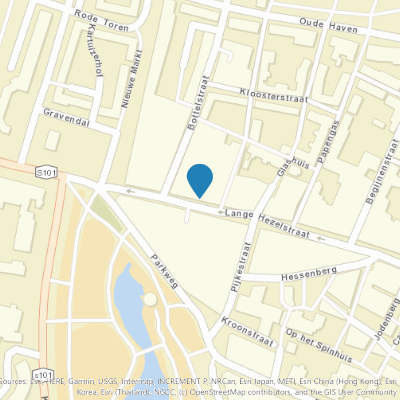 Kronenburgerpark
Kronenburgerpark has more than 150 different tree species and the differences in height make the park unique to the Netherlands.Read more
Kronenburgerpark
The Infocentre WW2 Nijmegen
The Infocentre WW2 Nijmegen is a historic, touristic, and educational information point.Read more
The Infocentre WW2 Nijmegen
End point: Hertogstraat 13
Nijmegen
Directions
Starting point: Grote Markt 17
6511 KA Nijmegen
DOWN TOWN 
Say no more! Delicious brunch all day. Tuesday through Sunday from 8:30 a.m. - 5 p.m.  

Reckless Record Store 
Step inside this vinyl and CD store and ask if you can listen to Nijmegen band De Staat or a classic Frank Boeijen song. Get into the Nijmegen atmosphere! Used sales as well as new. Monday 12:00 - 18:00, Tuesday - Saturday 10:00 - 18:00, Sunday 12:00 - 17:00.  
Stevenskerk 
From April through November, climb the Stevenstoren on Mondays, Wednesdays or Saturdays. On the way up, a guide from the Nijmegen Guild will tell you something about the history of the centuries-old St. Stevenstoren. At the top you have a beautiful view over Nijmegen and its surroundings. Check the opening hours in advance. Do you happen to be there during the 4Daagse? Challenge yourself with abseiling from the top! 
 
Make My Day  
Three accessible but also exclusive conceptsores, each with its own focus: Women, Atelier and Men. You can buy clothes, jewelry, gifts, cards, books and trendy interior decoration. For children, adults and pregnant women. Do you feel like making your own jewelry? Then Atelier. Still more in for a good functional gadget? Then go to Men. Monday from 12.00 - 18.00, Tuesday to Saturday 10.00 - 18.00 and Sunday 12.00 - 17.00.  
 
MOOD concept store 
At MOOD, a place has been created where you can escape the daily grind for a while. You can be inspired and shown a unique take on lifestyle, fashion and creative design. All items are hand-picked from young designers and labels. Drop in and discover MOOD's take on the world. Monday 1 p.m. - 5:30 p.m., Tuesday through Saturday 10 a.m. - 5:30 p.m., Sunday 1 p.m. - 5 p.m. 
 
Reshare Store 
Buying clothes and doing something good for your fellow man and the environment is possible at the ReShare Store: the second-hand and vintage clothing stores of Salvation Army ReShare. They think re-sharing is important; what you have left over in clothing someone else can wear again. The ReShare Stores are fresh and modern and offer a nice shopping experience to all types of shoppers: whether you have little to spend, are looking for something unique or like to shop second hand for sustainability reasons. Monday 1pm - 6pm, Tuesday through Friday 10am - 6pm, Saturday 10am - 5pm. 
Kronenburgerpark 
Kronenburgerpark has more than 150 different tree species and the differences in height make the park unique to the Netherlands. Part of the city wall has been preserved here, giving a good idea of the impressive fortifications that once surrounded the city. Tip: gotten thirsty from hiking? A water tap can be found at the corner of Kronenburgerpark across from Joris Ivensplein.  
 
Gesha Coffee 
Boho-chic lunch by the water! Breakfast, coffee, lunch and delicious cakes and empanadas. 
Monday through Thursday 9:00 am - 5:00 pm, Friday through Sunday 9:00 am - 6:00 pm. 
Tip: Already ready for dinner? Bistro bar Bankoh is 50 meters away. Asian with a twist and a view! 
 
Waalkade - Labyrinth 
As a Nijmegen resident you know the Labyrinth on the Waalkade; as a child, adult or during the Four Days Festivities you have played there with water or tried to escape from the flat maze. The stone maze was constructed in 1982, designed by artists Klaus van de Locht and Jaap van Hunen on behalf of the municipality of Nijmegen. Give it a try! 
 
Escape Boat Nijmegen 
Time to get your brain cracking! Escape Boat Nijmegen is located on a ship on the Waalkade; a perfect location for Escape Rooms in Titanic style! There you imagine yourself in one of the 4 Titanic suites: the Royal Suite, the Captain's Room, the Crew Cabin or the Wheelhouse. Reservations can be made via escapebootnijmegen.nl. Tip: not such a puzzler under time pressure? Walk a little further to the cultural terrace de Kaaij under the Waalbrug. Walk a little further towards the Waalstrandjes via the footbridge Ooypoort. In summer, this place is buzzing!
 
Valkhofpark 
The Valkhofpark is one of the oldest landscape parks in the Netherlands. Charlemagne had a large castle built in the 9th century, then it was destroyed in the 11th century before being restored in the 12th century by Emperor Frederick Barbarossa. In the 18th century, the castle was again damaged by the French and landscape architect J.D. Zocher Sr. created a landscape park on the hill on the English model. 
 
WW2 Information Center 
Start your visit in the Experience and experience exactly what WW2 meant for Nijmegen and its surroundings. You will also see how this history is kept alive in Nijmegen at various historical sites. Free entrance! Monday to Saturday: 10.00-17.00 Sun and holidays: 12.00-17.00.
Restaurant Wally 
At Wally, burgers take center stage; the ultimate comfort food. Starting point is: do one thing and do it well. A varied and sustainable menu with burgers made from organic cow, oyster mushroom, seaweed, pumpkin or Groningen Krombek beans. With uncommon toppings, they know how to turn a burger into something high quality. In addition to a delicious burger, the menu naturally includes fries, salads and other side dishes, milkshakes, homemade lemonades and specialty beers. Monday through Thursday 5 p.m. - 9 p.m., Friday through Sunday 3 p.m. - 10 p.m. Tip: Not hungry for a burger? Walk a little further to atelier. Bar all day! Very cozy and lots of choice.  
 
Poppodium Merleyn
End your day with a nice sound in your ears! Merleyn, originally called Music and Dance Cafe Merleyn, is a small music venue on Hertogstraat that has been under management since 2008 and is also part of the larger music venue Doornroosje. So, nothing fun to do in Merleyn? Then check out the program at Doornroosje, which is located next to the station.
End point: Hertogstraat 13
Nijmegen